Share Shell Shockers Unblocked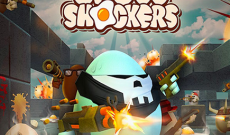 Shell Shockers Unblocked
Shell Shockers Unblocked is a wildly entertaining and egg-tastic multiplayer first-person shooter game that pits players against each other in a chaotic world of egg warfare.
GAME INFO
Categories & Tags:
One of the standout features of Shell Shockers is the ability to customize your egg character. Choose from a variety of egg designs, outfits, and weapons to create an egg-ceptional fighter that suits your style. Want to wield a dozen-shot shotgun or a yolk blaster? The choice is yours!
Game Modes
Shell Shockers offers several exciting game modes to keep things interesting:
Free-for-All: It's every egg for themselves in this chaotic mode where you battle other players to be the last egg standing.

Team Deathmatch: Form alliances with other eggs to take on rival teams in this cooperative mode.

Capture the Spatula: A hilarious twist on the classic "Capture the Flag" mode, where you'll fight to capture the enemy's spatula.
Challenges and Achievements
Shell Shockers Unblocked offers a variety of challenges and achievements to complete. From getting a certain number of kills to winning matches in unique ways, these challenges keep you coming back for more and add an extra layer of fun to the game.