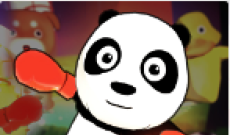 Pet Party
Pet Party is the only game you need if you're looking for an unforgettable experience that blends mayhem, humor, and pure chaos. This multiplayer brawler, which was created with ...
GAME INFO
Categories & Tags:
Pet Party takes the cute and cuddly creatures we adore and unleashes their wild sides. These adorable but fierce critters are here to brawl, and they do it with a level of charm and humor that's bound to keep you entertained for hours.
Gameplay
Choose Your Critter: Pick your favorite animal avatar from an eclectic cast, each with its unique abilities and hilarious animations. Whether you opt for a ferocious feline, a cheeky canine, or a wobbly penguin, you're in for a wild ride.
Hilarious Combat: Engage in chaotic battles where anything goes. Throw punches, toss objects, and employ the environment to your advantage. The physics-based combat system adds an element of unpredictability that keeps every match fresh.
Game Modes Galore: Pet Party offers a wide variety of game modes, from simple brawls to team-based challenges and even party games like soccer and sumo wrestling. There's never a dull moment when you're partying with these animals.
Multiplayer Mayhem: The true essence of Pet Party lies in its multiplayer mode. Team up with friends or go head-to-head in local or online matches, ensuring endless fun and laughter as you try to outwit and out-punch your opponents.
Conclusion
Pet Party is a celebration of friendship, competition, and the universal joy of a good laugh. It's a game that reminds us that gaming is not just about winning but about sharing moments of pure hilarity and bonding with those you care about.