Share Motocross Driving Simulator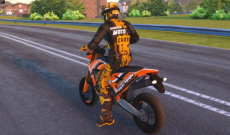 Motocross Driving Simulator
In the world of mobile gaming, there's no shortage of racing titles, but few manage to capture the thrill and precision of off-road motocross like Motocross Driving Simulator.
GAME INFO
Categories & Tags:
Motocross Driving Simulator puts you in the saddle of a high-powered dirt bike, ready to tackle rugged terrain and gravity-defying jumps. The game offers a surprisingly realistic experience, from the physics of the bike's suspension to the intricacies of rider control. You'll feel every bump, slide, and leap as you navigate challenging tracks.
Features that Set it Apart
Bike Customization
One of the standout features of Motocross Driving Simulator is the ability to customize your bike. From tweaking engine performance to upgrading suspension and aesthetics, you have full control over your ride. These customization options add depth to the gameplay and allow you to fine-tune your bike to match your racing style.
Career Mode and Challenges
The game offers a compelling career mode where you progress through a series of races, tournaments, and challenges. Each race is an opportunity to earn rewards, upgrade your bike, and climb the ranks of the motocross world. The variety of challenges keeps the gameplay fresh and engaging.
Online Multiplayer
For those seeking competition, Motocross Driving Simulator offers online multiplayer modes. Race against players from around the world in intense, adrenaline-pumping matches. It's a chance to prove your skills and claim victory on the global stage.