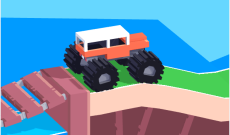 Monster Tracks
In the adrenaline-fueled world of off-road racing, Monster Tracks has emerged as a thrilling and action-packed mobile game that puts you behind the wheel of powerful monster trucks.
GAME INFO
Categories & Tags:
Monster Tracks kicks off with an impressive lineup of monstrous vehicles, each with its unique design and characteristics. From oversized wheels to roaring engines, these trucks are built for one thing: wreaking havoc on off-road tracks. As you progress in the game, you can unlock and upgrade your fleet to dominate the competition.
Monster Tracks offers intense and high-octane racing action. The controls are designed for accessibility, with responsive steering and acceleration, allowing players of all skill levels to jump right into the excitement. Whether you're racing against AI opponents or challenging your friends in multiplayer mode, the competitive spirit of off-road racing comes alive.