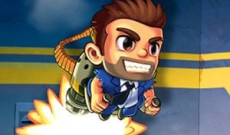 Jetpack Joyride
Jetpack Joyride has established itself as a must-play title for players of all ages because to its captivating gameplay, eccentric protagonist, and plenty of power-ups and challenges.
GAME INFO
Categories & Tags:
Jetpack Joyride was initially released in 2011 and quickly gained popularity for its simple yet engaging gameplay. The game follows the adventures of Barry Steakfries, an average guy who stumbles upon a top-secret laboratory filled with experimental jetpacks. Without a second thought, he straps on a jetpack and embarks on a thrilling journey through obstacle-filled laboratories, dangerous terrains, and even the skies.
Instructions
Using Mouse
The core gameplay of Jetpack Joyride is straightforward yet endlessly entertaining. Players control Barry as he zooms through various levels using his trusty jetpack. Tapping the screen propels Barry upwards, while releasing it lets him descend. The goal is to navigate through a myriad of obstacles, including lasers, missiles, electrified gates, and zappers, while collecting coins and power-ups along the way.
Jetpack Joyride's brilliance lies in its simplicity. The one-touch control scheme makes it accessible to players of all skill levels, while the random level generation ensures that no two runs are ever the same. This dynamic gameplay keeps players coming back for more, striving to top their high scores and complete various missions.